Thomas Rain Crowe
• October 25, 2003
Speaking in Tongues
An Interview with Belfast poet Gearóid Mac Lochlainn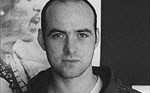 In May of 2002, I received an e-mail message from Irish poet and translator Gabriel Rosenstock informing me of the publication, in Ireland, of a new bilingual collection of poems by a young Irish language poet named Gearóid Mac Lochlainn. In Gabriel's e-letter to me, he praised Mac Lochlainn's new book Stream of Tongues, saying: "Mac Lochlainn dances with coyotes, with pipers in the heather. Stream of Tongues is a waltz, a side-step, a tango, a Highland fling… Such lovely lunacy is as rare as good watercress these days. For fifteen measly euro, you can enjoy the book and the CD. The CD, you say? Yes, it's a riot, a rattlebag, and if it doesn't attract a cult following, I'm giving up on cults. I, for one, believe that this stream of tongues, this crazy confluence, deserves a wide readership, at home and abroad."
Feeding off of Gabriel Rosenstock's enthusiasm, I quickly emailed Cló-Iar-Chonnachta — the publisher of Stream of Tongues — requesting a review copy and to see for myself what all the excitement surrounding this book and this young poet from Belfast was about. The book arrived in record time by overseas post, and I dove into the "Irish Sea" of text between its covers with anticipation, as well as with a healthy dose of skepticism. But I was not disappointed in what I encountered there. True to Gabriel's ecstatic endorsement, the page poems, as well as their oral equivalents offered on the accompanying CD, (and like the Highland pipes), took my breath away. What I found, "amongst the watercress," was a mature poetry dealing with the difficulties of existing within a minority Gaelic language culture in the face of the pervading English monoculture, exploring the problems it encounters in its search for an effective artistic voice which honors both the English and Irish speakers within its author. I found a powerful, emotive poetry that had the edge (although softer) of a John Trudell and "the voice" to pull off the spoken-word & music trick. In many ways, Mac Lochlainn's poems struck me as being a lot like that of Bobi Jones — in Wales — who, a generation before and not a born speaker, picked up the Welsh language and made it his own; breaking with tradition and bringing Welsh (as Mac Lochlainn does the Irish) back into the streets. In this sense, and similar to the "Baby Beats" of the San Francisco 1970s 2nd Renaissance, Mac Lochlainn could similarly be referred to as being an "infant INNTI" — a prototype of the next generation of strong Irish voices as was given us in the 70s by the likes of Michael Davitt, Nuala Ní Dhomhnaill, Catal Ó Searcaigh, Gabriel Rosenstock, et.al.
Totally drawn in by Gearóid Mac Lochlainn's strong, lyrical, poet-activist voice and his informed irreverence and seeming fearlessness, it wasn't long before the two of us were carrying on a Belfast-to-North Carolina conversation over the Internet — the essence of which is offered in the columns below.
Author of previous books Babylon Gaeilgeoir in 1997, and Na Scéalaithe in 1999, he has won several prizes and has received a special award from President of Ireland Mary McAleese in recognition of his work with the Irish language. For the past couple of years he has worked with Radio Ulster, programming Irish language programs; worked to set up Irish language programs in urban and under-funded schools; appeared at arts and literary festivals reading from his work and performing with his Irish-language band Bréag; traveled throughout Europe, Canada and the U.S. (particularly the Pine Ridge Reservation of the Lakota Sioux in North Dakota). He currently resides in his native home — in the city of Belfast — in northern Ireland with his wife and two young children. In September, he was awarded the Hartnett Award honoring the Irish language poet Michael Hartnett.
In her Introduction to Stream of Tongues, Nuala Ní Dhomhnaill jokingly, yet earnestly, refers to Gearóid Mac Lochlainn as "the real McCoy." It would seem that he has taken his native country by storm, so profound are the expletives and accolades used by his fellow Irishmen to address his work. In the end, I, too, have jumped on the Mac Lochlainn bandwagon and agree with Gabriel Rosenstock that his work deserves a more widespread audience — which is why Gearóid Mac Lochlainn and I have worked the many hours — over the course of many months — we have on this interview in order to bring it to America's shores. No better introduction for what follows, here, comes to mind than the words of Gabriel Rosenstock in his initial email to me back in May of 2002: "Come on brothers and sisters, let's all go down, let's all go down now and immerse ourselves in a stream of tongues!"
Thomas Crowe: Since this conversation will reach, mainly, readers in the U.S., and will be introducing you to most for the first time, can we begin by your talking a little bit about yourself — the history of your family and of your connection with Belfast and Northern Ireland?
Gearóid Mac Lochlainn: Northern Ireland is a difficult terminology for myself and many others like me. It carries lots of colonial baggage and an ideological sub-text. I don't use it. Let's use "north of Ireland" and move from there.
My blood-relatives on my mother's side of the family are Curleys from Belfast — from the "Loney", which is one of the oldest parts of the Falls Road. My mother's great grandfather was John Skelly, one of the United Irish men involved in the 1798 Rising, so the story goes.
On my father's side of the family, the story is different: his great grand-da was Irish Gypsy or "Traveling People" who came into the city of Belfast several generations ago from Armagh. They were apparently weavers, but how much of this is gospel truth I don't know, as my father tends to spin yarns and family history is always the subject of great debate between my parents. I suppose I should have gone down to City Hall long ago to research all this and straighten it all out.
In my early years, I went to Slate Street School off the Falls Road before moving to Twinbrook "industrial" estate famous for two things — the De Lorean scandal and Bobby Sands. Politics was everywhere when I was growing up. The feud between the official IRA and the Provisional IRA that occurred in the early 1970s, deeply disrupted the whole lower Falls Road community and split families and friends. Then, there were riots, pogroms, strikes, bombs, assassinations, discriminations, the Civil Rights Movement, The Hunger Strikes, the British Army on the streets and 100 other things… That was Belfast growing up. A city saturated in politics, revolution, ideas, censorship, state repression. But amidst all this, there was always poetry and music. My grandmother, for instance, on my father's side, played harmonica and sang until she died in her 80s a while back. Everyone on my father's side of the family are still singers and crooners, though I don't see much of them nowadays. So, maybe the most important aspect of my background is that I was always exposed to songs and singers and music.
Crowe: That said, let's ease into the subject of your writing by beginning with some of your essential influences. To whom or what do you attribute your love of language?
Mac Lochlainn: My musical and literary influences are very broad and far-ranging, but more than all else I'm influenced, I suppose, by sean nós or what is sometimes called "old style" Gaelic language song that contains some of this country's most beautiful poetry. The sean nós tradition is transmitted and passed down orally. This Irish tradition still defies to be text-bound and still lives only in performance or person-to-person sharing. I was blessed by a singing circle that happened nightly in Cumann Chluain Ard, an Irish speaking club in a Belfast back street that is off the beaten track. I heard and learned many songs there — where there were often Gaeltacht people who would sing, teach and share their songs and stories with the Belfast Gaeilgeoir and created a cross-fertilization between urban and rural Irish communities and language users. I was fortunate enough to have many good teachers from whom I've learned the sean nós songs.
Sean nós are social messages as well as a bridge between realities. For the early Irish peoples, like all indigenous peoples, words had magic and great power. When the Bardic form of Gaelic society was destroyed and went underground, the poetry changed to laments, songs of loss, great love songs, and vision ("Aisling") poetry that still held the hope of liberation of the Gael. These songs are still sung in many parts of Ireland, mostly in the Gaeltacht areas (the first Irish "reservations") but also in Belfast and other urban areas — where they continue to survive. However, it is a very transient and fleeting art form these days and in danger of being lost. The same song can have multiple variations and versions. Most of the songs are shape-shifters that are sung differently in different parts of the country. Conamara has the big airs and the long tonal phrasing, while Donegal has the rolling, rhythmic, chopped phrasing that is linked to the fiddle playing and the landscape. I, personally, use variations of these rhythms in my poetry but also fuse in other cross-cultural referencing from Reggae, Dub, Hip-Hop, Wacipi, Beat poetry, French existentialist writing, Cubism, Surrealism and Rastafarian philosophy.
Crowe: And what about purely literary influences?
Mac Lochlainn: Off the top of my head — let's see — I love Ó Riordain, Ó Tuairisc, Ó Searcaigh, Joe Heaney, and Michael Hartnett and Pearce Hutchinson. Others would include: Caitlin Maude, Noel Lenaghan, Ciaran Carson, Linton Kwesi Johnson, Albert Fry, Bob Dylan, Jack Kerouac, Allen Ginsberg, Bob Marley, and Bobby Sands. But there are three quotes that essentially permeate all my writing — beginning with Joyce. James Joyce's character of Stephen Daedalus talking about English as an acquired speech. "My soul fretted in the shadow of his language. The words Christ, Ale, Master were different on his lips than they were on mine…" These were and are very important words for me.
Secondly, the line from Michael Hartnett's poem "Farewell To English" was an essential influence. "Poets with progress make no peace or pact/ The act of poetry is a rebel act." This single line, alone, moved me to begin writing in Irish only. Hartnett believed that writing in Irish at all is subversive and a political statement. Hartnett, for me is the most important Irish writer since Joyce and more so since he wrote in Irish and English. He is tragically underestimated at times like Flann Ó Brien and Eoghain Ó Tuairisc who also moved between Irish and English.
And thirdly, there was Wordsworth's statement that poetry is "emotion recollected in tranquility." This idea has informed my idea of translation, and, specifically, how I translate my work out of Irish into other languages. I get deeper into all this in the Author's Notes at the back of Stream of Tongues.
Crowe: I'm interested in your references to the cultural implications of the sean nós songs. Can you talk a little more in-depth about this — especially whereas the Gaeltacht and the Irish language is concerned?
Mac Lochlainn: In Irish, these sean nós songs are referred to as filíocht na ndaoine, which is translated in English as "the people's poetry or song." They date from a period when the traditional Bardic order began to disintegrate under English colonization. With the advent of English colonization, the poet lost his traditional privileged role in Irish society — which was a spiritual and socio-political voice that mediated between the people and the Chief (Taoiseach). The poet's influence was able to put regulations on the power of the chiefs and how they used their power, making sure that they were praised if they did their job well and castigated if they didn't. So poetry had an innately political and functional role in society here in Ireland during earlier times. As I was growing up, I became somewhat dismayed that many poets were very hushed about politics and didn't properly fulfill that role or that they tip-toed around politics or political issues.
The exceptions to this prevalent attitude are Michael Hartnett and Pearse Hutchinson — both of whom I admire. The fact that I've just been awarded the Hartnett Award for the year 2002 is something that I am very proud of. But both of these poets are from the South. Northern poets have a sly reticence or coded referencing system relating to the North. "Don't rock the boat or bite the hand that feeds you, don't mention the war, etc." are still prevalent attitudes that have led to self-censorship in poetry here. In my mind, these are false separations that are part of the colonial silencing and psychological repression that is the history of The "Preoccupied" Six Counties. In this sense, our poetry, here in the North, has been emasculated, diluted and appropriated. Of course, most poets will deny this and say they do tackle the issues other than those strictly for an European/American/academic audience. My own poetry differs in that I was raised and still live in a community that is under siege and has suffered a lot. I don't know any other Irish poets that do live in communities, here in Belfast, or who come from the same class background as I. Ciaran Carson may be the one possible exception. But although I admire his work, I feel that he could have gone further in this respect in tackling political issues. I admire poets like Padraic Fiacc for taking those kind of risks with his career, though, sadly, Fiacc remains, like Hartnett, largely ignored in this part of the world.
In the end, I'm interested in healing the separation between poetry and music and also politics and poetry. For centuries poetry was sung in Ireland and also accompanied by music, as it still is to some extent. The growing split I see is a result of the continued influence of the colonial mentality in this country–which has brought on fragmentation and atomization. I can't even say "post-colonial," as there is still a British military presence in the North and one of their barracks is at my front door here in North Belfast.
Crowe: And the Irish language? Where does this fit in to what you are telling us about yourself and Irish history and culture?
Mac Lochlainn: Personally, I began learning Irish at the age of eleven and still count myself proudly as a learner, a perpetual one. There was a three year break — in later years — when I was off, traveling, when I lost touch with the Irish language community. However, while I wasn't speaking much Irish during these years, I was made more aware and concerned, by being absent, of the issues pertaining to language and culture at home. Ironically, I would say that this separation heightened my sense of personal and cultural identity.
I learned most of my Irish in Belfast from the older people — that included Ciaran Carson's father, Liam Mac Carrain, the story-teller. From Liam Mac Carrain and lots of great sean nós singers that were very traditional — unlike some of the more cross-over stuff that is around today and made for the export market, such as Clannad, Altan, and the likes.
I love the human voice. It is a beautiful form of communication. In Irish there is an older form of communication called oideas béil or Béil oideachais, which translates as "oral education." This type of teaching includes songs, myths, story telling and poetry dinnseanchas (the stories of place, place names, community history, etc.). I like to think of my work as oideas béil — the oral transmission of ideas. Words are meant to be carried on the air, to be externalized vocalized, sung, intoned for the ear of the listener. Text-bound poetry puts limits on understanding. We would never think of buying music in manuscript form to bring home to read and then assume we have heard the music. So, why should we think that a reading of the text would allow us to assume a knowledge of the musical intentions in the words? Only when the words are vocalized can we interiorize and understand the true intent and often hidden ironies, subtleties, tonal weaving and layering, and sound patterns that the voice can carry.
As you can, no doubt, tell, music (or the musicality of language) is more of an influence on me than modern poetry itself. I've had many a poem softly recited into my ear at the bar or in a session as if it were too precious to be said in any other way. I tried to get that feel on the CD that accompanies the Stream of Tongues book — with the pub sounds floating in and out. The role of oral communication of words and messages/knowledge is on the wane all over Ireland, if not the world. The voice, itself, has been dis-empowered.
In the end, I love poets who use music to create accessibility and a holistic, multi-media approach to giving voice to words. I'm surrounded by many musicians here and in the South, so discussion on the larger context of Irish music with regards to language is constantly going on as musicians share ideas, experiences and knowledge that seep into the poetry. I, personally, use a macaronic style in performance and this mixes the two languages I write in a somewhat holistic way. Poetry, song and performance are aspects of prayer to my mind. It is the only way I can do it.
Crowe: And how does politics effect language and music in 21st century Ireland?
Mac Lochlainn: The only Irish language radio station broadcasting from the cultural center on the Falls Road is still a pirate station which has been refused a license from the broadcasting authorities in England. The public broadcasters here also puts out a minimum of three hours of Irish language TV (enough to barely fulfill its responsibility under the European Charter of Minority Languages) — compare this to Scotland where there are less speakers of Gaelic and they have three hundred hours of programming and a bilingual station of their own. An anti-Irish bias seems to pervade broadcasting in the North. I sincerely hope this will change under the Good Friday Agreement and the new structures agreed upon to create "peace" here, but to date there is no evidence of this in real terms. Poetry allows me to voice issues that are not dealt with by media or arts establishments. These and other facts represent absurdities and ironies that have their roots in anti-Irish ideology. These things all leak into the poetry: the nature of the realities around me, the silencing of the culture and language, the brutality of the colonial statelet and their refusal to assume responsibility for crimes against the Irish people and culture. The Irish and English languages I use, then, are a product of these issues and an attempt to overcome the silencing and psychological fetters of colonialism and its resultant traumas. I like accessible poetry that speaks clearly and doesn't hide behind "open interpretations" and deliberately constructed duplicity of voice and layers of referencing.
Here, in Belfast, there is a dominant culture that silences true voices that speak out for justice and equality. This too, I pray, will change, though once again that process of change is proving painfully slow for a lot of citizens. As for the poet's role — poets are marginalized to being the "bar room bard," the "stage Irish," the pub drunk. My work is a reaction against that silencing and the denigration of the spoken word in Irish and English. The poet, to my way of thinking, is a medium, a translator, who is counteracting the forces of the so-called "media" which has really assumed and appropriated the old role of the bard as a go-between between the ruler and the ruled. The poet's role is, or should be, a political one where language and the magic of words are used to keep balance, harmony and cohesion amongst the people and their place. That's how it was traditionally and that is how I view my own work as an Irish poet.
Unfortunately (as is the case here in Belfast) the media has often been a tool of the state and in collusion and cahoots with the government and when that government is still steeped in colonial structures and mentality, then the media becomes an oppressor too. Nowadays, poetry in Ireland is becoming obsolete, or more succinctly the pass-time of a privileged few. Politicians and speech writers have appropriated the poet's role in modern "democracies" and use language to talk the masses into and themselves out of any given situation. So, I see my role as a transmitter — speaking truths that are masked by the media. In that sense, I am an alternative to media-speak.
Crowe: How, specifically, do you set out to achieve such lofty goals? Are there particular things, specific approaches that you employ in your work to bring about your ideals?
Mac Lochlainn: In Irish, Cantaireacht, Poirte Béil, Oetaireacht Béil all translate as "incantation," "lilting," "mouth music. They are heard in Scotland and Ireland and are often described as complex rhythmic "non-sense" songs that mimic fiddle music or pipe music. The voice and feet become a rhythmic pulse and can be mesmerizing. I try to work this into the poems: the incantation and rhythmic mantra tripping over itself, trying to find its feet. It is a way of breaking the silence and liberating the voice and its sensuality. Text-poetry, really, is a kind of fascism against the voice, body, eyes, movement, flow, the sensuality and presence of sound and soundings. I love to speak/sing the poems and it can be a daunting and costly experience, but I'm getting a handle on it. Working out emotions that would otherwise stifle me: anger and rage, for example. These emotions become part of the song, the poem, and are sublimated into artistic messaging. Many people here in the North are deeply enraged at the circumstances in which they are forced to live, but they're not allowed to express this rage. We are expected to bite the bit, hold our tongue, play the game.
Crowe: I want to talk some more about the "silencing" and the reticence and its effect, and to know more about its past and present history in Northern Ireland and how that history has affected the language there and what we would, here, think of as "1st Amendment Rights. Would you be willing to talk a bit more on this subject?
Mac Lochlainn: One of the main reasons the Irish language was so "successfully" repressed was that older people (parents, mothers, fathers) believed (justifiably) that if you didn't speak English you wouldn't survive in the new social dispensations and structures that were introduced by London centuries ago. In other words: Irish was a hindrance if you expected employment, a wage, survival. And what, truly, lies behind all of this suppression of the language? Racism. Despite what the media projects to the rest of the world as "the problem in Northern Ireland" being the war between the Catholics and Protestants, "a sectarian conflict," it's really the racial issue between the British identity and the Irish identity that is at the root of the tension. The religious issue is just a symptom of the racial issue and the colonial history and present.
As is/was/and continues to be true in the "colonization" of America and the American Indians, the outlawing of the Irish language was the main tool in the overall silencing of the culture in general. Later, this kind of approach was extended to include the silencing of voices of dissent. The government and moral structures that existed and which caused Bloody Sunday and the Civil Rights Movement of the 70s still exist today in many forms and covert ways, and if you live in The Short Strand or North Belfast absolutely nothing has changed in decades and the "new structures" and dispensations don't seem to apply to Irish citizens.
Crowe: How does this scenario play out in your own daily life there in Belfast. What do things look like in 2002 Belfast? Would you be willing to talk about this even though it may be dangerous for you?
Mac Lochlainn: The Marching Season has just entered full swing here again and for the month of July the city is in clampdown and an unofficial curfew affects many nationalist areas where people are forcibly locked in their own streets. Even during this time of year I travel all over Belfast by bicycle and refuse to take "safe" routes that avoid "trouble spots." I learned from an early age that if you are walking or cycling through a loyalist area (which 90% of nationalist people would never do unless they had to, for some reason) that it's best to assume a different identity. In Seamus Heaney's poem "Whatever You Say," he writes of names as clues to identity that can give you away. I remember reading this poem with hope as a teenager, the hope that a poet was going to expose the corruption of the statelet here. I think Heaney shied away from that and sadly heeded his own words too well. He has found a niche in the Anglo-Irish tradition which feeds off the Irish language through many celebrated translations into English that don't even include the original Irish text when published. This disturbs me as it is part of the process of erasing the language from our literary heritage. Heaney, like Yeats, is a one-way translator and very much a "safe" poet, an "aesthete," who does not question political structures and the politics of language in any deep way. His translations, like Yeats', fall into the trap of cultural appropriation — satisfying the curiosity of a non-Irish speaking audience, fulfilling the Anglo-Irish poet role that Yeats molded with his false ideas of "Celtic Twilight." He is a great English language writer but I have problems with him being held up as The standard of "Irish" writing while his output is purely monoglot English or translations into English that feed off the Irish language tradition and thereby disempower the original language through deft translation into the tongue of the "dominant culture." These are worrying issues for the bi-lingual writer and the Irish language writer.
Getting back to the politics in my own writing — if we look at the suicide statistics and demographics for heart disease for Belfast compared with the rest of the country, they look a lot like the statistics of Native American reservations in comparison to the U.S. national average — even worse when you consider areas like West Belfast, which had the highest suicide rate per capita in all of Europe a few years back. On top of this there are many other problems in our area — such as depression, theft, underage drinking, joy riding, alcoholism, domestic violence — all added to the sectarian/racist violence and attacks, etc.
To compound matters, the State refuses to deal with these issues. And if by some sort of miracle someone were to "make good" as a writer, musician or artist, they are expected to move out of the area — feeling lucky to have escaped. To my way of thinking, this is wrong. I believe that it is the artist's duty to stay and face the music. To confront the corrupt system as a voice within the community — using stories and issues as the material from which he or she draws. To do otherwise is to become nothing more than a cultural and political ostrich or an "aesthete."
Crowe: Given the situation that exists in Belfast and Northern Ireland, how do you see yourself as a poet in the midst of all this, and how does that play out?
Mac Lochlainn: The word file in Irish translates as "seer," "one with vision," "one who sees what is hidden." I believe that this is the role of the poet. By seeing, allowing others to also be able to see. To unveil and expose things. To create cultural epiphanies. What I want people to see through my work are some of the distorted images and untruths that the government-run media here are spoon-feeding my people and the rest of the world. Many people are fascinated with things Irish or "Celtic," but they rarely come into contact with real communities and people on the ground. Many people here are hurt, broken and suffering from ongoing traumatic stress disorder and heavy repression. With the Marching Season back again there are helicopters flying overhead all day and night. It's more like a war zone in the streets this time of year than a neighborhood. Each member of my community is a victim of years of this kind of thing. No apology has been made and no responsibility has been assumed by the oppressors who created this situation in our country.
The fact that the Irish language exists at all is subversive. To choose to write as one's vocation is a hard choice to make. To write or perform "political poetry" can literally be dangerous. There are many parts of this city where I cannot walk or go for a pint simply because I am Irish. I would like to raise these issues in public and create dialogue and interaction amongst people and the government. This is part of my role as "Poet" as I see it. I'm tired of watching my friends slide into self-destructive drinking and self-loathing. It has taken me years to build up my own self-esteem and self-respect, so that now I can take the stage with confidence. I've had to overcome years of negative conditioning. Now, I feel blessed to have people take an interest in what I do. That puts me in a position of privilege but, at the same time, a position of responsibility. I take this all very seriously. The fruits of my labors to clean up my act are evident in this latest book/CD Stream of Tongues.
If anything, as public artists we have a moral duty to challenge the forces that would silence us and threaten our very existence and the use of our language of choice. If the system stinks, then it's up to us to expose it. We have a duty as poets to speak for others that won't be heard.
Crowe: While we're on the subject, I'm curious — you named Bobby Sands, the IRA Hunger Striker, as one of your major influences. I don't think many people here in the U.S. know much about him outside of his celebrity as being a political activist and martyr. Can you tell us some more about his expanded legacy and his influence on you?
Mac Lochlainn: When I was seven years old my family moved from the Falls Road to Twinbrook. Bobby lived in the same estate. He died when I was fifteen. It was a bizarre time and especially at that age. My poem "The Storytellers" attempts to capture some of the things that were happening then. I remember his funeral — with myself and my friends perched on the roofs of flats watching the huge cortege passing by. It was the biggest thing that ever happened in Twinbrook and possibly the most formative thing in many of our lives. Bobby's death was to have repercussions we couldn't, at that age, even imagine. Bobby Sands was unique — a song writer whose songs have been covered by well-known Irish singers such as Christy Moore and Terry Ó Neill, and a bi-lingual poet who could not realize his potential because of the prison conditions and the life he was forced to lead. He had a variety of different pen names — Marcella, An Fhuiseog (The Lark) come to mind. There is a an Irish Medium School in Twinbrook now that is named Scoil na Fuiseoige in his honor. His poetry was raw and "basic" in form, but I think it was a great achievement considering conditions in the Kesh [jail] and how books and basic necessities and human rights were denied.
By comparison, Sands was like a streetwise Padraig Pearse. He could have been anyone of us and in a way represented all of us. Everyone's heart was broken when he died and people could not believe that it had happened. Bobby, who was an elected MP of Mrs. Thatcher's own parliament and who received more votes and a bigger mandate than herself, was allowed to die in the jails of a colonial government that refused to acknowledge there was even a war in this country and that there could be political prisoners, prisoners of war. Bobby Sands showed my generation the cruelty of England and that Brittania was no peace-broker, no neutral force in a "sectarian conflict." Bobby touched everyone, but also woke us up as to how little Irish lives were valued by the London Administration and to how we should, instead, value ourselves, our language, our heritage and our rights to exist as Irish people.
Bobby Sands true importance in our history is yet to be realized. After his death many of my peers joined the Republican Movement or re-immersed themselves in the culture and language. We felt it was time to de-colonize our own psyche, to return to our roots, and break off ties with our colonial overlords. Many, myself included, felt the need to shun the English language itself — the "master's voice," as it were — and the thinking patterns we had adopted and adapted to through fear. My poem "Rite of Passage" addresses this dynamic, this transfiguration. In the Irish version of the poem, the ending refers to "first understanding" of the word Irish — a word which could mean the possibility of humiliation, brutality, censorship, degradation, but also pride, culture, language, music and resilience. Being Irish is dangerous, as I've already alluded to, in parts of this city. What is a poet if he's hiding behind his own creations, playing the ambiguity game and never coming clean on central issues. It's that old "whatever you say, say nothing" routine that Seamus Heaney captured so well but while he still succeeded in saying nothing. He carefully avoids this in his work for fear of the Republican label that could be affixed to an Irish writer who simply tells the truth from their point of view. The word "Republican" is still a dirty word in the North of Ireland and that is very sad.
So, suffice it to say, that Bobby Sands was and is a mentor for myself and thousands like me. He sent us all off — back into our own culture with an understanding of our situation. An understanding that none of us may have had had it not been for him. I also love his songs, which I haven't mentioned much, here. Also, I taught Irish to his brother John a few years back — who is now a balladeer and songwriter who is writing songs in Irish.
Crowe: While the real politic of poetry and life in Northern Ireland is fascinating, lets move on into the interior of your work as a musician and poet. I'm wondering what the fascination is for you to perform. Could you tell us a little more, in detail, about your approach to performance and the importance of your work as someone who performs his work in public?
Mac Lochlainn: Popular myth has it that "Irish people have the gift of gab" — which is true enough, but really belies all the silencing that goes on in this culture and to which I've alluded during this interview. We are generally seen as a nation of entertainers. I like to take this stereotypical notion of Irishness and turn it on its head. In my readings and performances, I like to subvert and play around with these sort of stereotypes — using the music and song as a liberating force, jolting the audience and their expectations. In my poetry I take the storyteller format and twist something more sinister into the plot to show the decline of our art forms and how they are threatened with compromise, if not worse. I work with traditional rhythmic structures and also fracture them to echo the sense of fractured identity of the population and culture. I look at the long lines in sean nós and the rhythms of the portaireacht Béil and try to rescue them from the condescending "nonsense" identity they have been saddled with in recent generations. So, all of this feeds into my own work and the performances.
Philosophically, I look at the stage work, the performances, as a physical and verbal choreography, where many elements come into play and jam with each other: breathing techniques, rhythms, aural/sound contours of words, tone collage, sound pastiche, body and gesture, physical presence, sensuality of aural landscapes, eye contact, silence, emotional shifts and changes, timing… Timing is everything, and if done right, one should be able to step outside of constructed time — like the sean nós singer. Ciaran Carson writes well on this subject in his book Last Night's Fun. I see this whole thing as a word-dance. I love the emotional shifts that play into this mix — like the key shifts in traditional music from a merry G major to a transmuted and desolate E minor and the kind of journeying and exploration of feeling that contains. I like to inject the unexpected key changes that swing the mood around and can take both me and my audience somewhere else, without warning. In this sense, jazz is a big influence on me and my strategy toward performing.
In the end, I see all this kind of work as a form of prayer — riding the lines, becoming the sounds, allowing voices to pass through me (that includes a semi-trance state from time to time).
But amidst all this conscious transitioning, I claim the right to free-style. Text is really little more than a prop, of sorts. Much of the stuff I do live is different each time I do it and I often bring in snippets of other languages, such as Scotch Gaelic and Lakota. Poems like "I Am The Tongue" have infinite possibilities and often get extended into much longer, circular pieces. I'm drawing here on the lúibíní or the "links," which is a largely neglected verbal art form of social satire that is close to a form of rap. It has made a bit of a comeback at the Oireachtas Festival in recent years, which to me at least, is good news. Lúibíní is a form of dramatic improv. Performers will sometimes adopt personaes and even dress for the show. Macaronics, which I've mention earlier, is another approach that I use. Just last week, on a trip to Budapest, I learned some of the Hungarian Gypsies macaronic styles that are used in their songs. I've already incorporated some of the Hungarian and Ruma into lines of the "Teanga" poem that is in the Stream of Tongues book.
Crowe: Since you've referred to the Stream of Tongues book, lets talk a little about that, and particularly the inclusion of the CD with that book. It seems to me from reading your Authors Notes at the end of the book, that your approach to this particular CD is a unique one. What was your thinking when working to create a book/CD package?
Mac Lochlainn: The accompanying CD provided an acoustic space to further explore dialogue, hooklines, references and rhythmic and tonal variations in the poems, but also to explore the macaronic tradition which has to date been much neglected and misunderstood. Perhaps we should view the whole thing as a jam session between Irish and English and a bit of the "dueling banjos" scenario. In this sense, I am grateful to the translators who worked on Tongues for their generosity and kindness in allowing me to duet, joust and jam with them in the collaborative translations and for their openness and understanding in allowing me to pursue these ideas — both in the book and in a recorded format.
My publisher, Cló Iar-Chonnachta, offered me the chance to record a selection of the poems in a recording studio for which I am grateful; but I have been in the studio many times recording other projects and did not feel the "dead air" of the studio was the "natural" context for poetry or the spoken word. Therefore I recorded some of the poems at home or outdoors and edited them on a computer software package for digital editing. I recorded five of the poems outdoors: at a gig, on Mount Errigal in Donegal, and on streets in Belfast. These are mostly untouched by editing and studio tinkering, and therefore somewhat "imperfect." But studio sound is also riddled with different "imperfections" and illusions. Others of the poems are home recordings which I later employed simple editing and mixing techniques to explore rhythms and soundscapes that were suggested by the poems.
Getting back to the idea of macaronics and lúibíní… as I delved further into these ideas, a "Freestyle Rap" dialogue between Irish and English emerged as I tried to wed the yin and yang of Gaeilgeoir and Béarlóir that exist simultaneously in myself. I wanted the English versions of the poems to have some organic connection to the Irish but also to allow my English speaking self to draw breath. At times my approach veered towards regarding the original poem and the translation as a new form of "macaronic lúibíní". Lúibíní are a traditional form of Gaelic singing where two or more performers are set against each other or collaborate together in a bout of semi-spontaneous composition. The form is usually satirical in nature with witty asides, double entendre, punning, and glints and sparkles of macaronics. It is also a complex form of artistic social commentary not unlike the best of Freestyle Rap. A lot depends on delivery and for this reason the recordings are an important counterpart to the text. In the performance of poems like "Teanga," I was able to finally realize what I was trying to accomplish with this idea of "macaronic lúibíní".
Crowe: While you speak reverently about the translation process as being integral to the production of the CD which accompanies Stream of Tongues, what can you tell us about the translation process in general and its inherent problems, and the unique solutions you might have come up with for this particular book?
Mac Lochlainn: For Stream of Tongues I began to think in terms of silence, sound and contexts. Poetry, I believe, brings us closer to silence like the stillness at the center of good haiku. The translator's process is to work out from the silence signified by the last full stop of the original and re-sound in a new language. The translator looks to capture the tonal breath of the original. Inspiration. Different skills are needed. Presence: real and imagined.
My translations are an attempt to minimize the loss of music and euphony that occurs with "straight" translation. I also wanted the translations to have an organic internal dynamic of their own inspired by the originals but not independent of them. They are also a playful jibe thrown out at the monoglot who seeks truth in translation. Translation is a chasm of echoes and reverb, a circus tent full of funny mirrors and fascinating dupery. In the original poems, sound shaped the syntax to a large extent, and I was striving for a crisp reverberation of and between words. Since poetry is a deep musical language within language, I kept faithful to the words as signifiers as much as I could but kept more faith to the air that carried the words, the spirit of the thing.
My approach to translation is pretty much an attempt to find the connection between the music of language and the language of music. I have tried to extend this analogy in Stream of Tongues treating the "translation" as focused improvisation around given motifs. This approach takes its lead from the jazz or Blues musician's explorations of riffs, hooks, rhythms, melodies, turnarounds and phrases. In traditional Jazz the purpose of the "standard" or the tune is to provide a basis for improvisation that engages us further with the tune and its myriad possibilities. The musician is permitted to take liberties with the original, to put to and take from as his own creative engagement and technical ability allows. Jazz has a beautiful respect for the standard but also grants license to diverge from it or extrapolate from it. The jazz musician spontaneously translates for an audience.
Crowe: How is this translation process you describe, and its inherent problems, unique to the Irish language?
Mac Lochlainn: I should begin by saying that I believe it is impossible to really "translate" Irish poetry. While translation may get close to what is signified by the original words there is always a loss of music. Translation of Irish to date has explored ways of compensating for this loss and new approaches are still evolving. But the translator/translation is still at a loss. Etymological associations and connotations, punning and onomatopoeic echoings are almost always certain to go. But translation really gets into deep water as we move from the phonological system or sound system of one language into that of another. Each language has its own system of sounds and sound production. This also involves a different approach to the human vocal organs or speech apparatus. As poetry moves from the sound system of one language to that of another, music, rhythm and cadence is lost. The music peculiar and unique to that tongue is left behind.
With all this taken into consideration, I began to view my "translations" as jazz meditations on the original Irish poems — which slowly became my own standards over time as I puzzled and fretted over the Catch-22 translations offered to the Irish language writer. I had attempted some of my own translations and had also put together a selection from each of the translators in the book. But something still gnawed at me. Through studying the translations provided generously by other writers as well as my own, I gradually allowed myself to adapt a "freer" attitude to the work.
Irish has a deep, dark grammar that lends itself to a crackling system of sounds and tones. These sounds are supported by dynamic gyrations and rhythmic contortions of the genitive case, "aspiration", and prepositions that are blended with pronouns to produce telescoped words to mention only a few of the unique and untranslatable aspects of that tongue. Some of these traits became mantras under the (now defunct) Christian Brothers approach to language learning. It is also possible to almost casually arrive at subtle rhythmic groupings of words in Irish that would seem strained and forced if mimicked in English. I am not saying Irish is more beautiful or euphonious than other languages. But its sounds and poetry (and history) wove an aural spell on my own ear at a young age while the English around me became increasingly bland and lackluster and not unlike the present day pop-charts. And yet English translations are a reality and each Irish language writer must approach them cautiously for they often gain an autonomy of their own and eclipse the Irish. My job, and specifically my work with Stream of Tongues, was not to let that happen.
Stream of Tongues is available in the U.S. through DuFour Editions. Contact with Gearóid Mac Lochlainn or his publisher Cló Iar-Chonnachta in Ireland can be made via email at: [email protected]